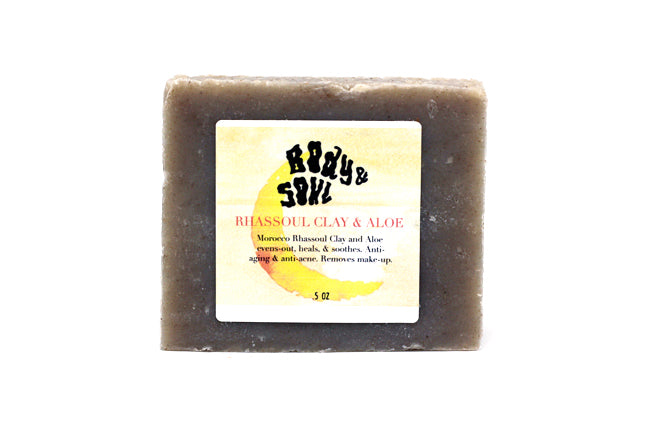 bodysoulsoap
Aloe & Rhassoul Clay Soap Bar
Sale price
$7.00
Regular price
$9.00
A luxuriously moisturizing and skin-healing face bar. The Rhassoul Clay is soothing & gentle for all skin-types, the high levels of silica, magnesium, potassium and calcium nourish & deep clean the skin. The high aloe content keeps this soap from over-drying the skin. 
Aloe Facts:
-Contains a natural sunscreen that blocks 20-30 percent if ultraviolet rays
-Both astringent and soothing
-Perfectly matches the natural PH of our skin, making it a near-perfect skin tonic
-Key Constituents: Fiber, B Vitamins, Vitamin E, selenium, silicon, enzymes, aloin, anthraquinones, polysaccharides, tannins
-A key polysaccharide helps skin retain moisture and promotes the growth of healthy new skin cells
Rhassoul Clay Facts:
-Soothes inflammation & irritation reducing redness in sensitive or dry skin & generally healing skin
-Balances oil production for all skin types.
-Has a strong negative electromagnetic charge which draws out the positive-charged toxins, dirt & grime under your skin. The result, deeply cleansed skin.
-Sourced from Atlas Mountains of Morocco, also know as Red Clay or Moroccan Red Clay.
-Formed due to volcanic activity and geothermal changes giving it its rich magnetic charge & rich silicate & mineral properties
---
Share this Product
---
More from this collection