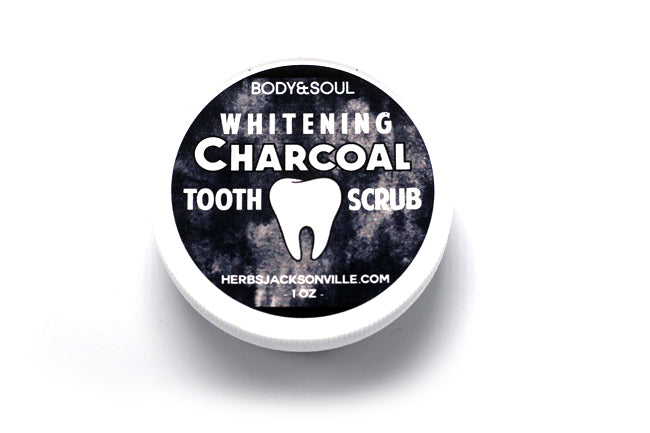 bodysoulsoap
Large Charcoal Tooth Scrub
Our natural charcoal whitening tooth scrub is a Body&Soul best-seller!  Made with coconut carbon charcoal, it's a finely ground powder that lifts stains from under the enamel without damaging it. The fine grit brushes plaque from the teeth. We have had multiple dental hygienists, and of course, customers, come to us and re-affirm how well this product not only whitens but improves tooth and gum health.
To Use: Dip a wet tooth brush into the tooth powder. Use a small amount and brush for 60 seconds as normal. We recommend using this product every other day. It's a complete replacement for your toothpaste when you use it.
Many people see a difference the first week or even the first day. It all depends on how much wine and coffee is consumed as well ;) 
Ingredients: coconut carbon charcoal, baking soda, bentonite clay, spearmint essential oil, trace minerals
The large tooth scrub contains 1 oz versus the small tooth scrub which has .3 oz. It lasts for around 3 months, versus the small tooth scrub which is a one month supply.
***
MORE Detail:
Our (local, handmade) formula has coconut carbon charcoal, medical grade. This absorbs stain-causing debris & bacteria. It also has bentonite clay which mineralizes (helps harden) teeth, binds to heavy metals & toxins & removes them. The clay, charcoal & baking soda all neutralize bad bacteria/odor.

How does it taste, you ask? 🌿 like a mint explosion because we load it with spearmint essential oil!

But wait, there's more! (Sorry I used to be an ad copywriter, can you tell?) It contains 7 ph balancing, teeth-hardening natural minerals, too.(Magnesium, Chloride, Sodium, Potassium, Sulfate, Lithium, Boron.) .

I made this tooth scrub for myself years before starting Body&Soul. As you can see in pic 2, I have very white teeth even though I drink (multiple) black teas & coffees every day. People have asked me what I was using for years, it's still so amusing to me to now have shared this formula with so many people 🕊 I am humbled & happy that the "secret" is out & so many people are open to natural tooth care. ❤ customers have returned & told us their dental records have improved.

To use, you dip a wet tooth brush in and brush for 2 minutes day/night like normal. Use a small amount, a little goes a long way.

Ours is easier to use than pure charcoal which gets *everywhere* when you use it.
---
Share this Product
---
More from this collection