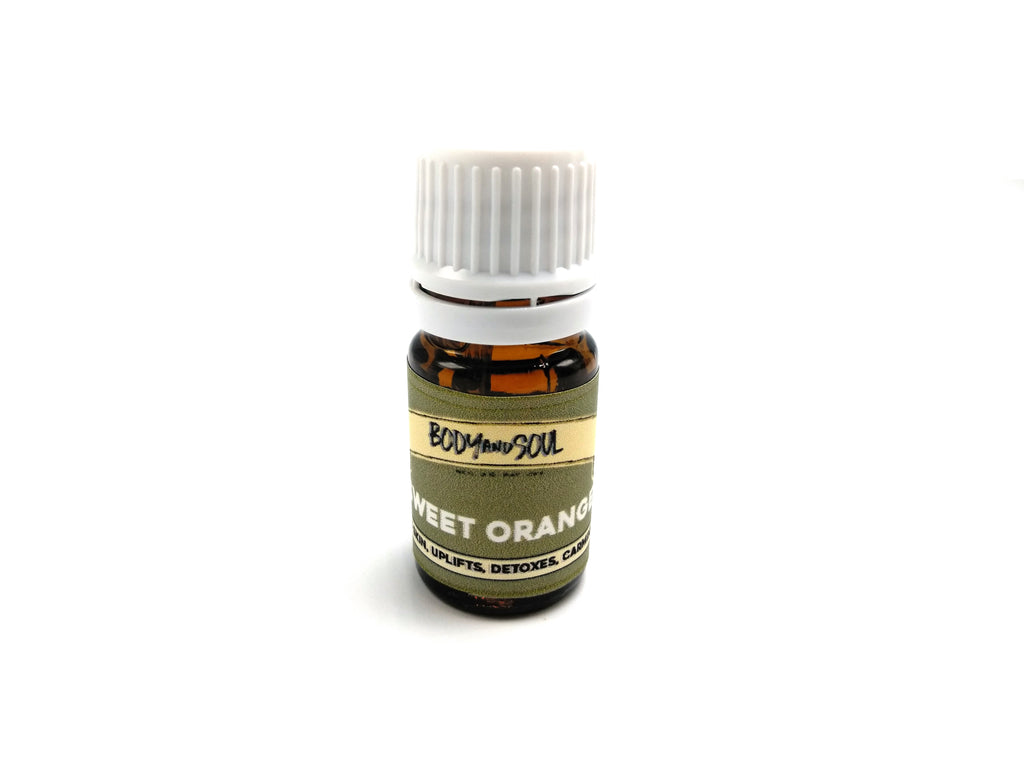 bodysoulsoap
Sweet Orange Pure Essential Oil, 5ml
Like peppermint, sweet orange is one of those universally beloved essential oil aromas. Children love with its sweet candy-like notes and adults love it because sweet orange soothes the mood, alleviating anger and depression. Sweet orange is also a carminative, meaning it soothes gas and gastric upset when applied externally via a carrier oil. Sweet orange is considered soothing because of how it balances the mood but it's also beloved for energy boosting affects, when your mood is lifted, you work more efficiently! 
We use this essential oil in our energy inhaler (on-the-go aromatherapy)
* * *
Use essential oils for diffusers or use a few drops in your own creations. I love to add essential oils to the washer, mop water, and cleaning products to keep the house smelling fresh. All essential oils are mildly anti-bacterial and anti-microbial to one degree or another, essential oils are an excellent way to kill germs and introduce aromatherapy to your life!
*WE DO NOT RECOMMEND TAKING ESSENTIAL OILS INTERNALLY. See our herbal extracts/bitters for ways to take herbs internally more safely.
If you seek essential oils to carry with you for on-the-go aromatherapy see or Aromatherapy Inhalers.
If you want to use our essential oils to treat bodily problems, aside from inhalation, you can add these essential oils to a carrier oil and apply them to your body. Use a couple of drops at a time to start. The essential oils will enter your blood stream via the skin and heal you from the inside-out. 
DO NOT apply citrus oils to your skin before sun exposure. It will greatly increase your chance of sunburn.
Don't hesitate to contact us if you have any questions about essential oils.  :) It is clearly a deep abiding passion of ours and we hope it will be the same for you. Essential Oils are a lifelong practice and study that bring ample healing and stress-relief to your life.
---
Share this Product
---
More from this collection